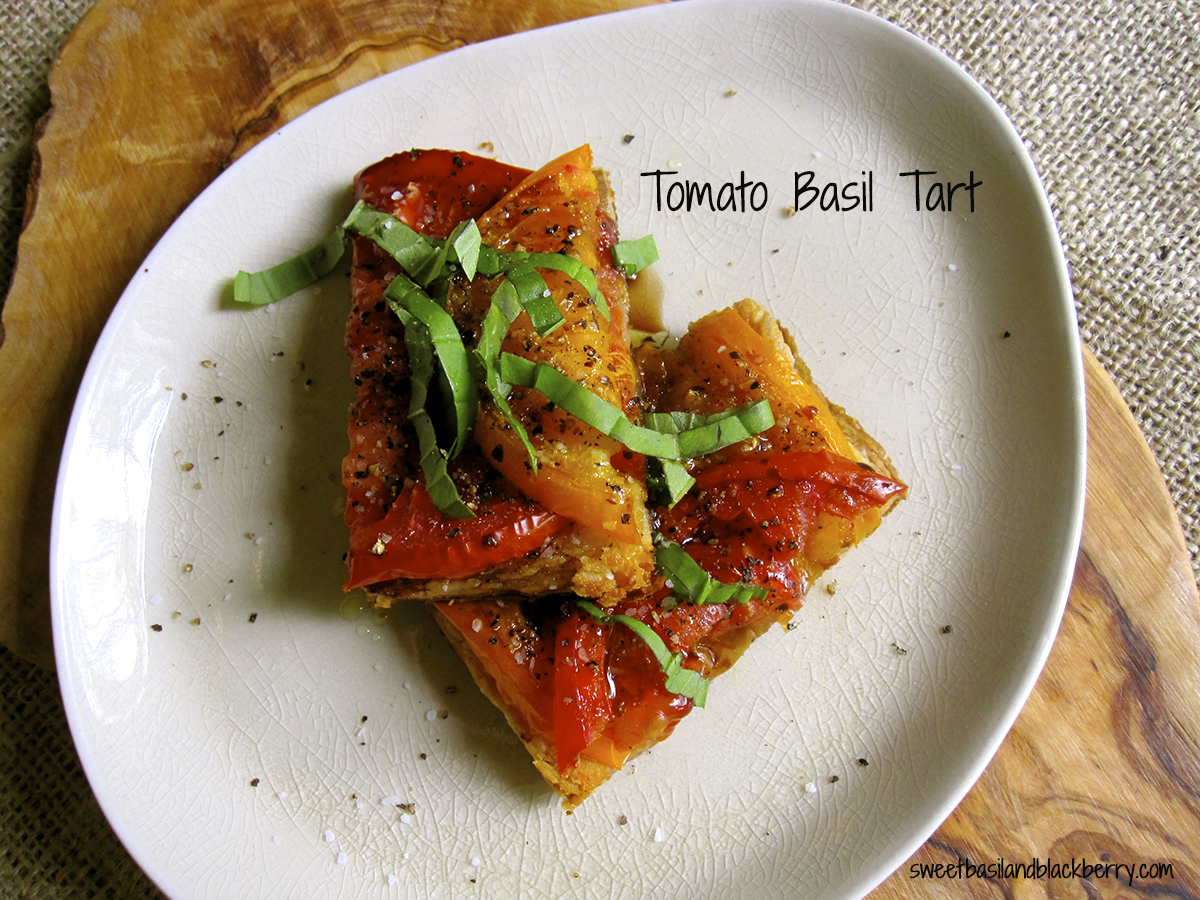 Tomato and Basil go together like peanut butter and jelly, such good friends!  For the past 20 years, we have tried our best to grow tomatoes here in Texas.  We've planted them in the ground, in pots, hanging upside down, all with miserable results.   They either burn up in the heat or the birds, squirrels, and fire ants feast on them, leaving nothing but a few pecked on tomatoes.  Ugh!!!  Basil, on the other hand, loves the Lone Star state.  Every year in the Spring I'm just so sure they won't make it, but  the hotter and drier the summer gets, the bigger and heartier the basil plants grow.  Right now, my basil plants are about 3 feet high and will soon be pulsed into pesto, simmered into pasta sauce, and dried for future use.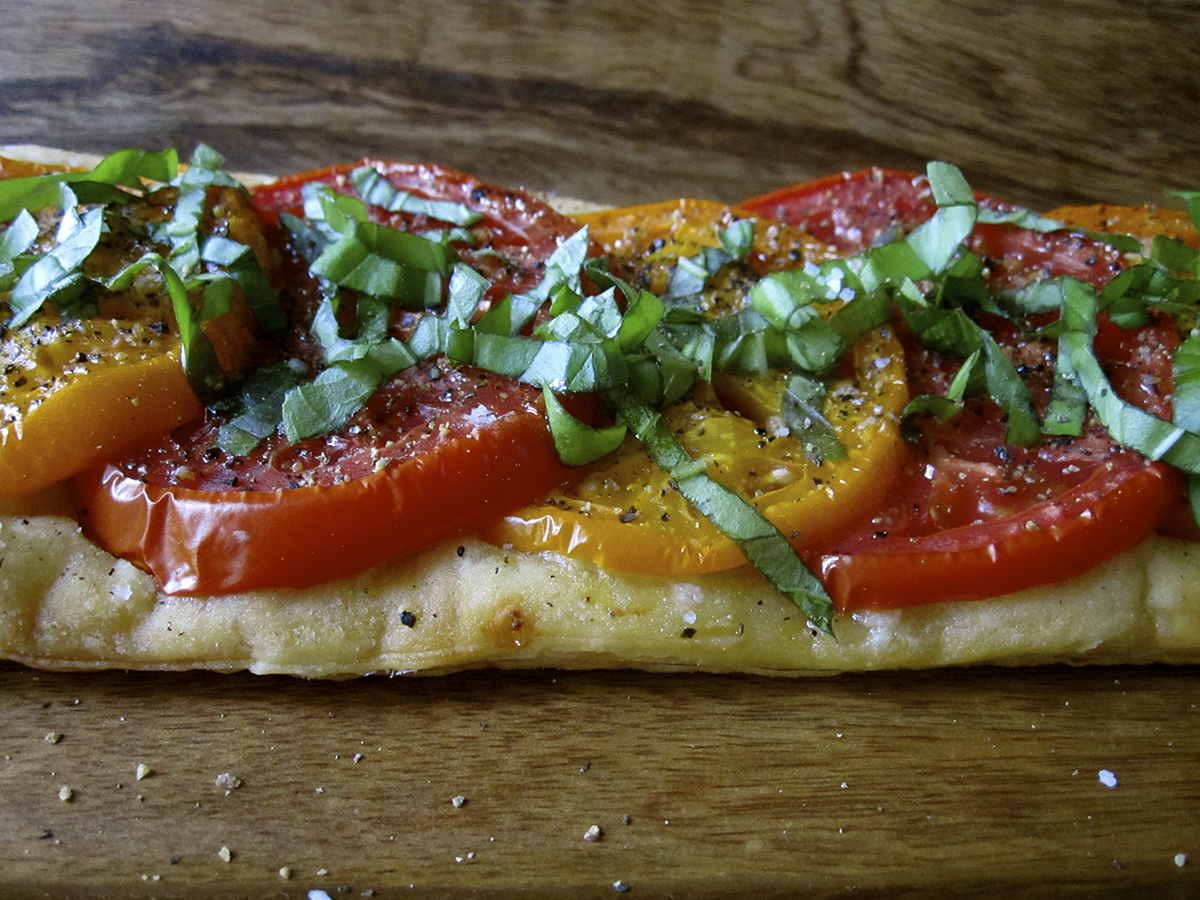 I love that first summer tomato!  A big fat slice on a BLT along with a piece of corn on the cob… Oh, the taste of Summer.  I believe in another life I must have been a farmer, digging, planting, nurturing and gathering my harvest. (or I like to think I was) For now, I am reduced to trips to the local farmer's market for the fruits of someone else's labor.
Puff pastry  seems so intimidating, but don't be afraid!  It was so easy, as long as you thaw according to the directions, and unfold carefully.  All the hard work is done for us. (thank goodness)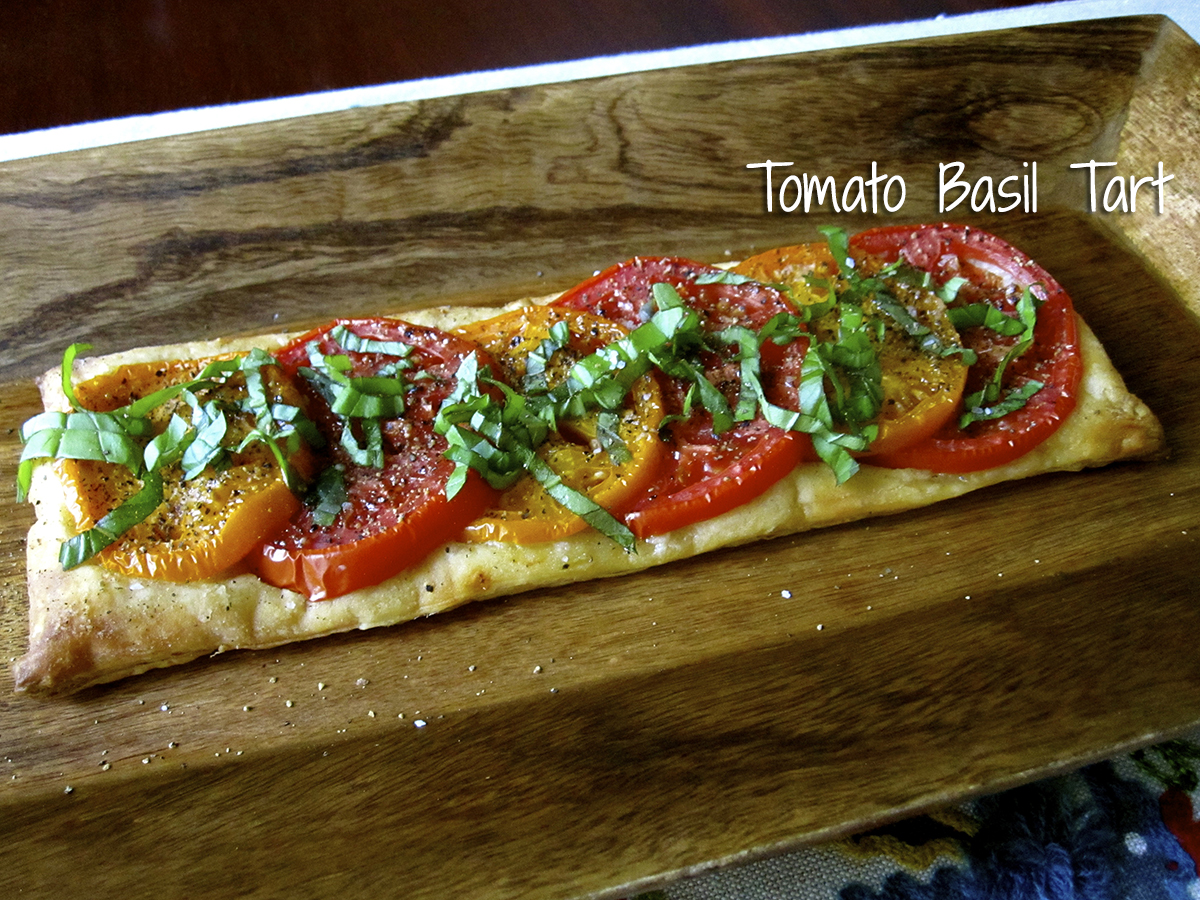 Tomato Basil Tart
Ingredients
1 sheet puff pastry (thawed)
2 red tomatoes and 2 yellow tomatoes (any variety will work)
Basil thinly sliced
Extra Virgin Olive Oil
Balsamic Vinegar
Directions
Preheat oven to 400 degrees

Slice tomatoes and set aside
Unfold puff pastry on lightly floured surface and cut into 3 equal rectangles
Place pastry side by side on cookie sheet (lined with parchment paper)
Prick the rectangles with a fork
Brush with olive oil and bake for 10-12 minutes (edges will be lightly browned)
Layer the tomatoes on the puff pastry, alternating if you have a variety of colors
Season with salt and pepper,  brush with olive oil
Bake for additional 10 minutes
Cool for about 5 minutes
Top with thinly sliced basil
Drizzle with balsamic vinegar
Cut into smaller rectangles
I used a Fig Balsamic Vinegar by Sutter Buttes Olive Oil Co.
Very Tasty!!