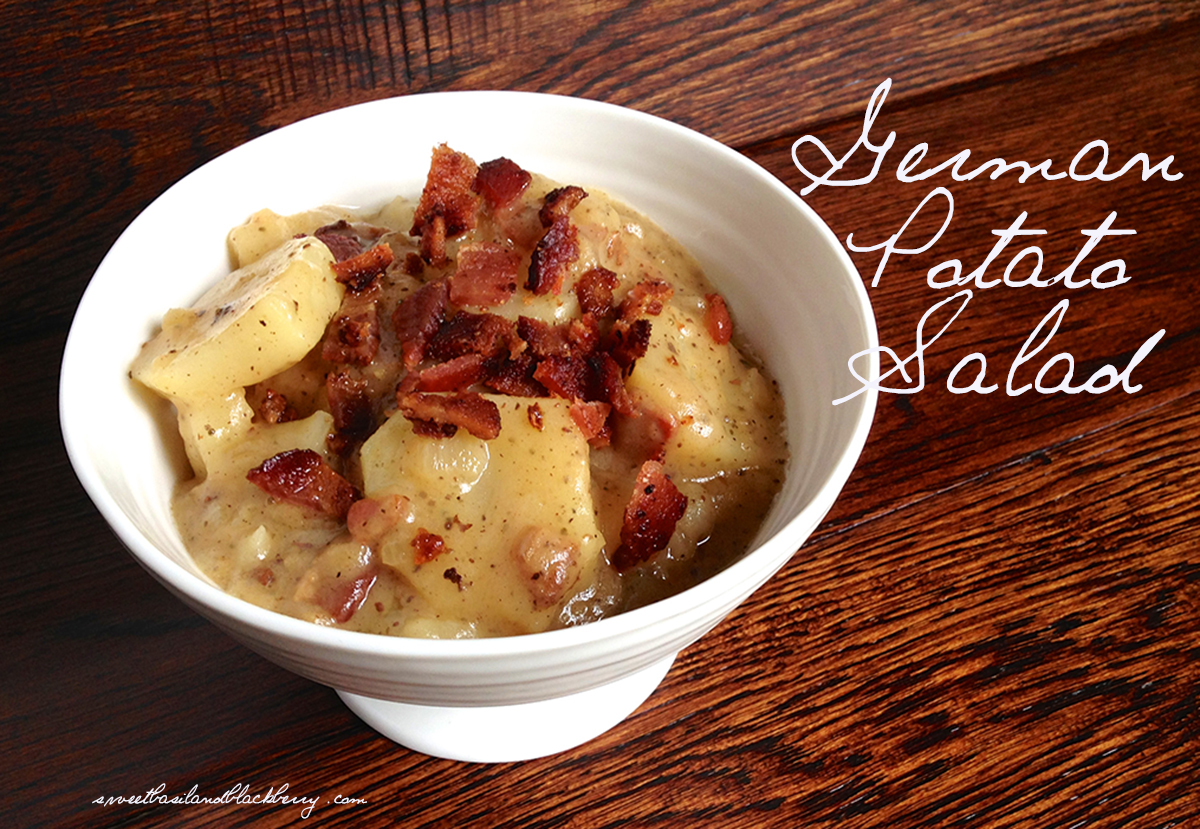 Before I met my husband, two things, I had never tasted German potato salad with a Bratwurst.  Oh, and I had never ever attended a Catholic church picnic.  All there is to say, I missed out!  At the close of my first picnic, I'm certain Roddy found me with eyes glazed, a half eaten brat, and a beautiful homemade cake that I won at the cake booth.  (No elderly or small children were harmed as long as I got the cake I had my eye on!)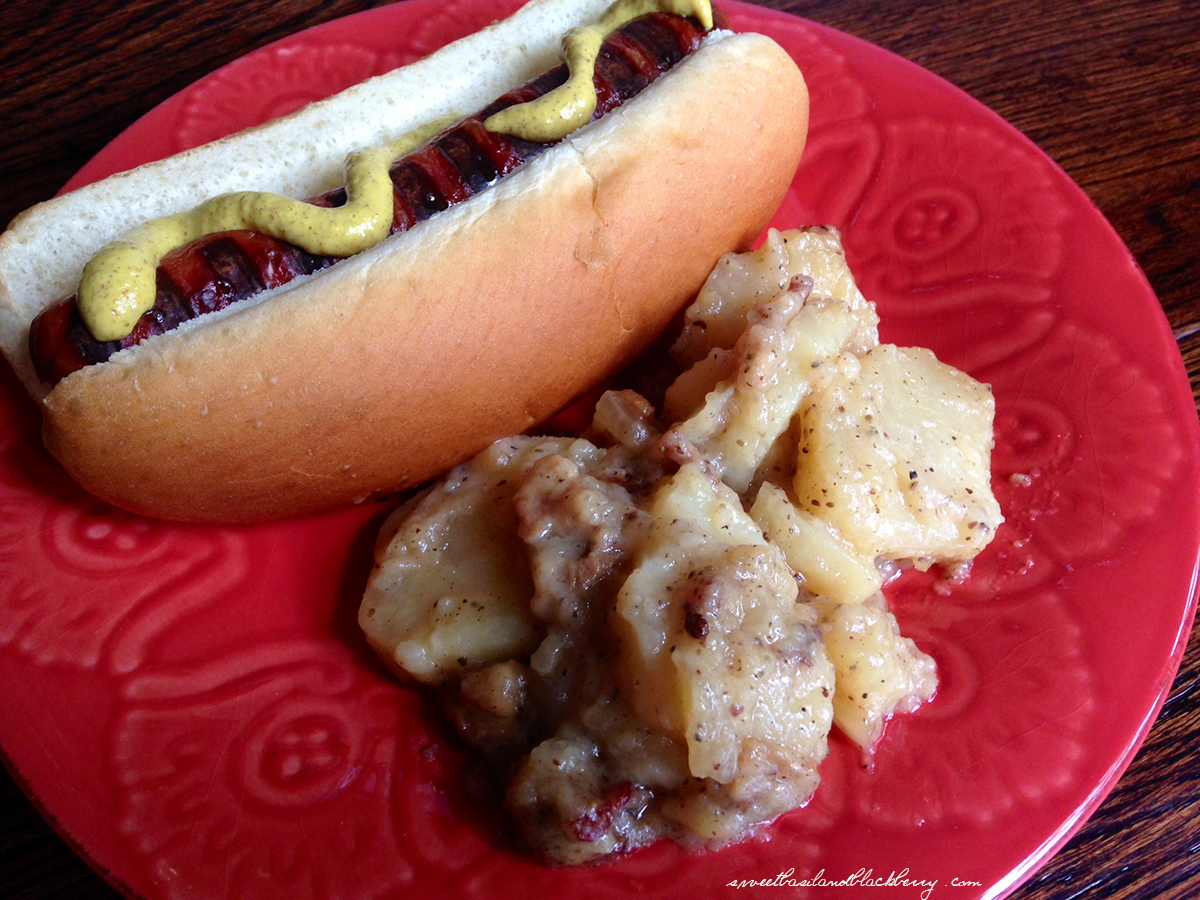 Although I grew up eating the yellow mustard potato salad, I am always game for different varieties.  And I live by the philosophy that you can't go wrong with bacon. This potato salad contains just the right amount of sweet, tangy, savory bacon, potato goodness to complement any dish.   Perfect for the upcoming July 4th and summer grilling season, it contains no mayonnaise, making it ideal for outdoor events.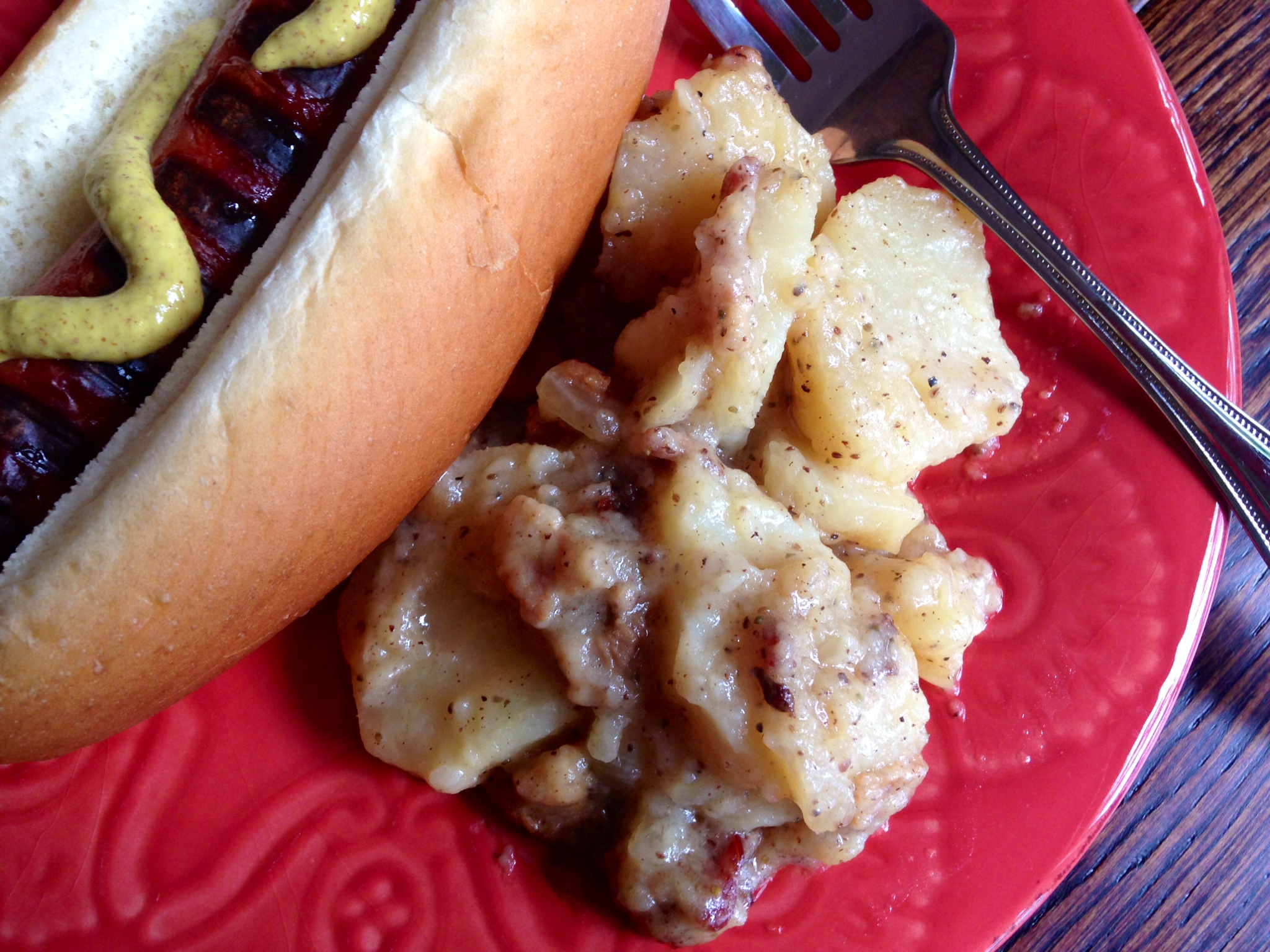 A family favorite, we also love German potato salad served with ham at Easter.  Well, really I love it anytime!  I cherish the recipes that I've received from Roddy's family and I hope this one will survive for many more generations.  Many Happy Picnics to you!!!
German Potato Salad
Ingredients
6 medium potatoes, boiled in skins
6 slices bacon
3/4 cup chopped onion
2 tablespoon flour
1-2 tablespoon sugar
1  teaspoon salt
1/2 teaspoon celery seeds
dash pepper
3/4 cup water
1/3 cup vinegar
Directions
Peel potatoes and slice about 1/4 inch, place in a large bowl and set aside
Combine flour, sugar, salt, celery seeds and pepper in small bowl
Fry bacon until crisp, remove leaving fat in pan
Saute' onion in the bacon fat until golden brown
Whisk the flour mixture into the bacon fat and cook over low heat until smooth and bubbly
Remove from heat, stir in water and vinegar
Bring mixture to boil, stirring constantly.  Boil 1 minute
Top potatoes with crumbled bacon and sauce mixture.  Stir gently to coat
Serve warm or room temperature