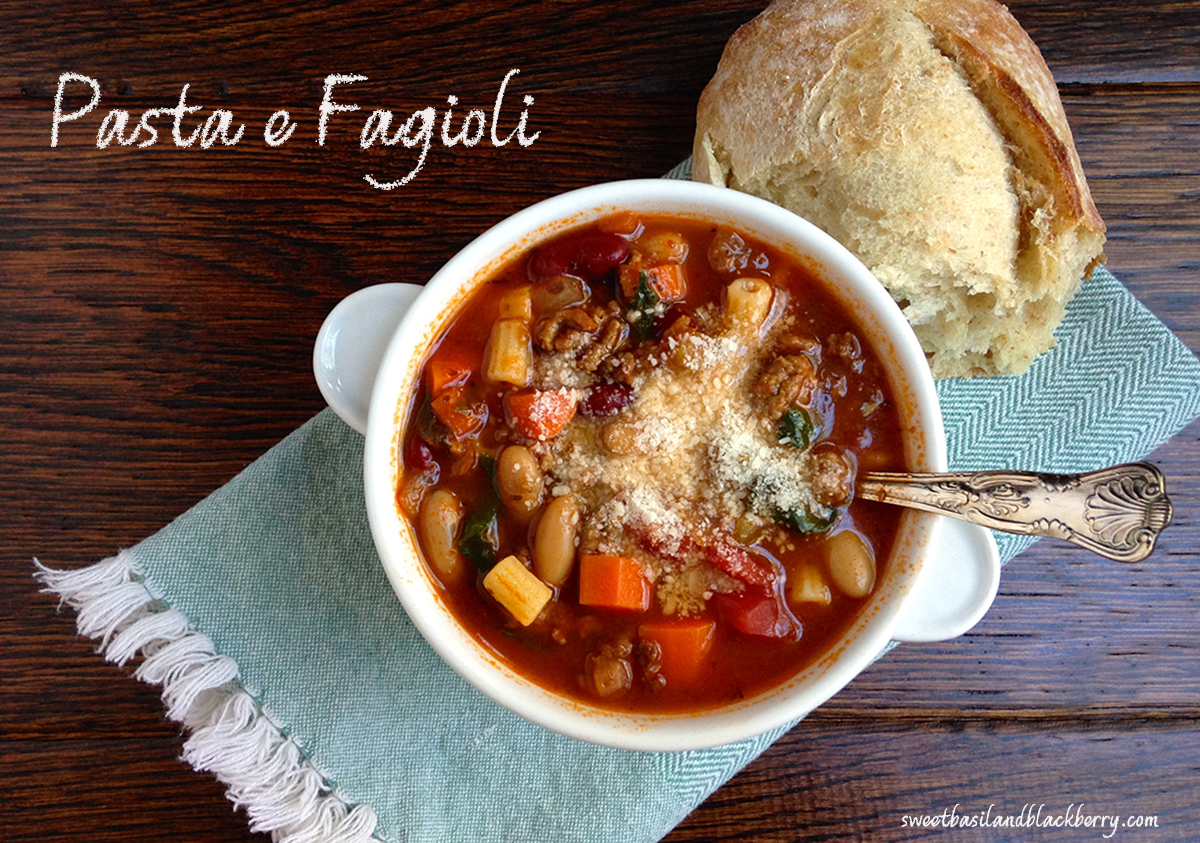 Long awaited cold weather is finally here, and nothing hits the spot like a steaming bowl of soup.  Don't forget the crusty French bread or cornbread to mop up every little bit.  I collected numerous soup recipes over the years, that became family favorites.  Many, so long ago, I honestly can't remember where or who they came from.  
This recipe originated as a "copy cat" for the Olive Garden's famous pasta and bean soup.  Over the years, I added a little of this and omitted a little of that to end up with a hearty Italian vegetable soup. Kale could definitely be substituted for the spinach, or the greens left out all together.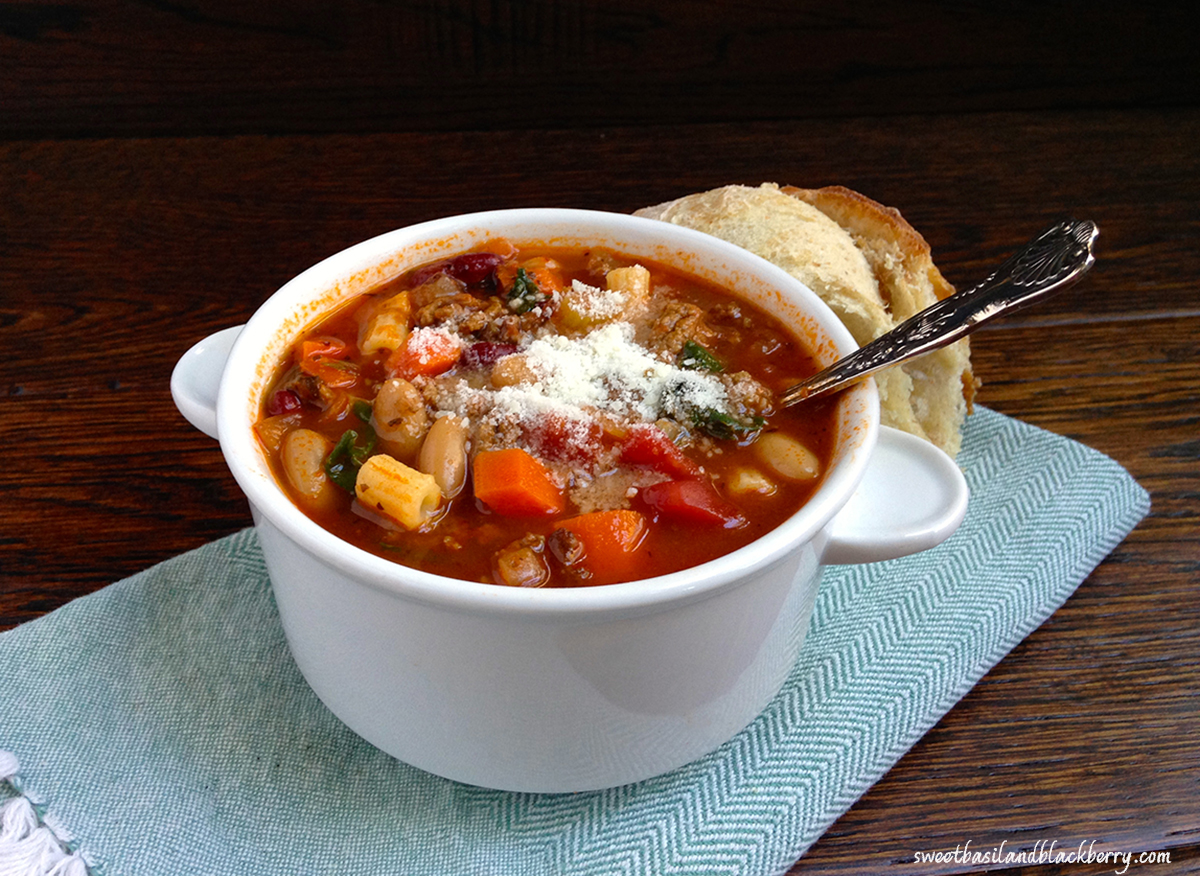 When the kids were little, they strongly disliked tomatoes and beans.  I placed 2 small bowls in the center of the table at meal time that were known as the "bean bowl" and the "tomato bowl."  The older they grew, the fewer beans and tomato bits appeared in the bowls.  No matter, their contents assured that Roddy and I had extra tomatoes and beans in our chili or soup.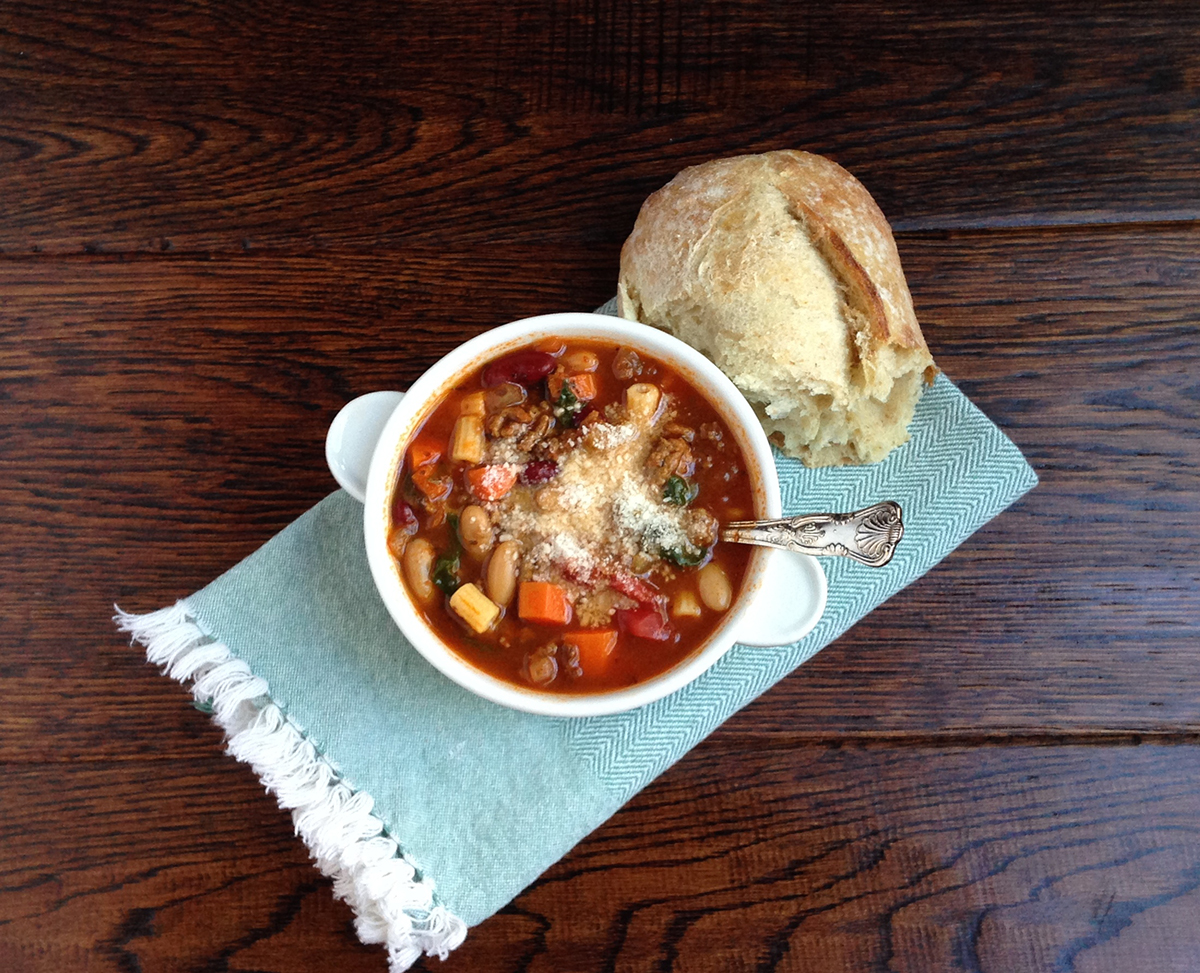 Bundle up and stay warm, the cold is coming!!
Pasta e Fagioli
Ingredients
2 teaspoons olive oil
1 pound lean ground beef
1 onion, chopped
2 cups each of diced carrots, celery
1  to 1 1/2  32 ounce carton chicken broth
2 teaspoons dried oregano
1 teaspoon freshly ground black pepper
2 tablespoons fresh chopped parsley
1 tablespoon hot sauce
1  24 ounce jar of pasta sauce
1 can red kidney beans, drained and rinsed
1 can cannellini or great northern beans, drained and rinsed
2 cups cooked ditalini pasta (cook to al dente' and drain)
2-3 cups fresh spinach
fresh grated parmesan cheese
Directions
Heat oil in large soup pot over medium-high heat
Add beef and sauté until no longer pink
Add onions, carrots and celery, simmer 10 minutes
Add 32 ounce chicken broth, oregano, black pepper, parsley, hot sauce and pasta sauce
Stir in beans and simmer 1 hour
Add additional chicken broth or water to reach desired consistency
Just before serving add fresh spinach and cooked pasta
Heat through until spinach is wilted
Top with parmesan cheese and serve with crusty bread